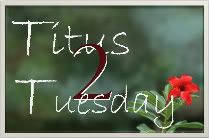 What have learned from another woman this week? (or ever)


Enter your link below and link back here somewhere within your post!
Today I am sharing my
Grandmother
with you. She was an amazing woman who lived to be 100 years old and was a shining example my entire life of finding the good in just about everyone.
Growing up, I could not remember anyone who she EVER said anything negative about. She was widowed three times in her life. When she would think back on my grandfather she would say,
"He was a peach of a fellow..."
while her entire face lit up emitting the warmth of the love felt within.
Evidently her second husband
wasn't
such a "peach." He had sold himself as a wonderful man to my grandmother and the family until after the vows were exchanged; but apparently changed dramatically as her husband and a father. But I don't recall ever even having the slightest inclination that he was selfish, demanding and mean to my father and aunts until my dad mentioned it to me when I was older.
It wasn't that she was lying to herself about people; she was just sure that there was good in everyone - pure gold that simply needed to be sought and found.
And when she found the slightest sparkle within you; you wanted with everything inside of you to prove her right.
She had a rare and beautiful gift of seeing the positive and drawing it out. You walked away a better person just for having met her.
Thankfully, her third husband was a rare gem who adored her and did all that he could to make her happy. Sadly, it ended up being the shortest of her unions, but possibly the sweetest.
Too often we don't take the time to look past a glaringly negative trait or life choices. My grandmother never sat me down and told me that I should look for the good in others or that "if you don't have anything nice to say, you don't say anything at all..."
The way she lived, full of love and grace, wrote that truth deep inside my heart.
I can still hear her say, "...and I
love
you!" to me. I never questioned her love. I never had need. I knew no matter if I made a bad choice here or there that she would still find my good and somehow, that made it all the more important to me to choose well. Never underestimate the power of unconditional love and seeing the good in others...
Click on these links to read about more
Titus 2 Women
!