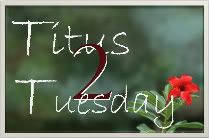 Here we are at another
Titus 2 Tuesday!
It is easy to join in-just answer the question below:
What have learned from another woman this week? (or ever)


Enter your link below and link back here somewhere within your post!
Each week I ask the Lord to impress upon my heart who it is He would like for me to write about. Today He strongly impressed a virtual "Titus 2 Woman" on my heart. I admit; I questioned it for a minute - NOT because I didn't want to honor her, but because I hadn't thought about sharing someone who I haven't met in the "real" world.

So I am venturing out today and honoring a sister who has touched my life here in the blogging world~
Jeneil
. Her blog is Rhemashope (or

Autism in a Word

). Named after her beautiful two daughters. Jeneil has such a wonderful mother's heart. Her oldest daughter has autism. Although I do not personally have children on the autistic spectrum; I have several close friends who are in the midst of walking the path that she has found herself on and I am continuously blessed by how she is able to share openly the struggles and joys of mothering. Her writing transcends and touches the heart of every mother

.
One of my absolute favorite things that she often says is,

"
A good friend is cheaper than therapy!"
Amen Sister!!

But it doesn't end there.
Her first love is clearly the Lord. She has inspired me, challenged me, and encouraged me in my own walk with the Lord.

She posted the other day about how God gave her a "theme" verse for her daughter when she was still in the womb.

She has prayed it over her, written it on the door of her bedroom, and is claiming it over her life. I have several "life" verses that I have claimed as my own as the Lord has impressed them upon my heart; but had never thought about asking God for specific verses to be claiming and praying over each of my children as "theme" verses for their lives. I do pray Scripture over my children (like Daniel 1:4 over my boys and parts of Esther 1:15 over my daughter), but I am praying more specifically that God would reveal Scriptures specific to each of my children that I could claim and be praying over them.

I know that Jeneil is not looking for personal recognition in any way and that she seeks to honor the Lord in word and deed; so

Jeneil

, today I am praising God for the way that He is at work in your life. Thank you for seeking His face and following Him! God touches my heart through you.


We can learn so much from other women! Click on the links below to read what they have learned from "Titus 2 Women" in their lives!