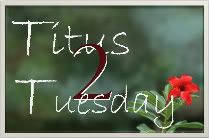 Here we are at another
Titus 2 Tuesday!
It is easy to join in-just answer the question below:
What have learned from another woman this week? (or ever)


Enter your link below and link back here somewhere within your post!
I am dedicating today's post to my amazing step mom,

Beth

. Our family was blessed to have her become a part of our family a few years after my mom died. She was my dad's rock through his cancer, and continues to be a blessing to us all even after his passing.
The thing that she is currently teaching me:

You are never too old to live God sized adventures.

She recently had a birthday which bumped her into the 7th decade of her life. Yet, she has answered the prompting of the Holy Spirit and is doing missions work in New Guinea as I type right now. She left back in October and will not return to the States until June. She has assisted missionaries in the bush, stayed with a couple in Australia for a bit while working out her Visa, and has been teaching at a missionary school.

Her e-mails are always filled with lessons that God is speaking to her own heart, love for people that she meets along her journeys, and anticipation for what is yet in store. I thank God for her strategic placement within our family.

I love you Beth! ("Mom")



Head on over to these blogs to read more lessons from Titus 2 Women in our lives!