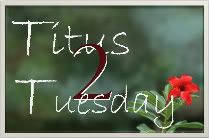 What have learned from another woman this week? (or ever)

Write your own "Titus 2 Post" (linking back here somewhere within the body of your post) and enter your link below!
It is hard to believe it has been a full week since I have posted! Sometimes God is more active in the silence than words...
Today I am honoring two women,
Traci
and
Kathryn
, that I have gotten to know over the course of this year by praying with them. Our children attend school together and we have been meeting once a week to pray for the school, the administration, faculty, staff and each student by name. We were not able to make it every single week; but it wasn't about whether or not you were there every week...it was about the heart of covering the school and all within it in prayer.
The sweet fellowship of agreeing in prayer with these women has blessed me. The ministry that they run has also resonated within me. You can check it out
here.
I first met
Traci
at the end of year class picnic last year. (Our daughters are in the same class.) At the time, I was considering home schooling my children and she shared with me how she had home schooled in the past. When I asked her what it was that had made her stop homeschooling, she shared that God had called her to begin a ministry. (
Kathryn
has become a ministry partner with her.)
If you have ever desired to go deeper in your relationship with the Lord, this is such an amazing resource and tool. The heart of it all is getting back to our first love through fasting, prayer, and spending time in the Word of God. Although you are fasting;
the emphasis is on feasting on God's Word
. For those who are looking for a place to begin, they have written a program called, "EAT" that breaks down Scriptures to focus on for breakfast, lunch and dinner. They have done a wonderful job explaining different ways to fast, how to transition out of a fast, etc.
What I have come to respect and love most about these women is that they are genuine and they are bold. They are surrendered to Christ and taking each step as He leads in His authority. It has been deeply inspirational to me in my own walk.
What have you learned from another wise woman?
ALL of us can learn something from one another.
Join in and then go read these posts!

**Please write your "Titus 2 Post" linking back to this post first and then enter your link below.**

Mr. Linky's free widgets are not available right now; so if you would like to link up; please let us know in your comment that you have joined in. You can also "link" your post to this post by adding a link to my blog in the body of your post or by clicking on "links to this post" below. I apologize for the inconvenience!