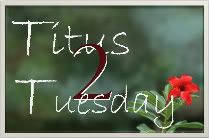 What have learned from another woman this week? (or ever)

Write your own "Titus 2 Post" (linking back here somewhere within the body of your post) and enter your link below!


"A cheerful heart is good medicine..." Proverbs 17:22

When I think of my best friend from growing up,

I remember laughter

. Heather was such a gift to me from the day we met in the church nursery. I pray that we will one day be two little old ladies still cracking each other up!

I can't remember exactly how old we were, ( I think maybe 4?) but Heather and I were selected to sing, "Jesus Loves Me" during the Christmas Program at our church. Our older sisters were standing behind us; I believe we were kneeling down beside the manger where the song was meant to take place.

The music began, and we got the giggles. Not just little giggles; LOUD / CANNOT STOP kind of giggles. Our sisters, being older and all, knew how unacceptable that was - after all; it was a crucial part of the Christmas Program for the song to be sung! So they began to sing over us. (But we were holding the microphone...)

That was my first of MANY stories of us laughing together. I could quickly list a bunch of phrases like, "That's my own, personal flashlight!" or "Hunch!" But that would mean nothing to you all and I know your reading time is precious.

The bottom line: my childhood/adolescent years/college days/and life would not have been the same without her. She added the element of laughter to the darkest situations and allowed me to belly laugh, snort, and cry all at the same time.



She taught me the power of laughter in a person's life

. (Among other things - you will meet her again down the road in other lights I am sure.)

This is actually a dual-purpose post today. I also wanted to introduce you to my blogging friend, Rachel. She is also a Godly friend of mine who understands the value of laughter. When I need a good chuckle, I can (almost) always just read through her comment section of her posts and read the friendly banter between her and her husband, Mr. Daddy.

Rachel hosts a meme on Tuesdays as well called, "True Story Tuesdays." If you are in need of some laughter, check it out! (I didn't want to just talk about laughter and not allow you to experience some!)

On a more serious note, she recently shared the loss of her niece with the blog world and in honor of her sister and her niece she is doing something special. If you would like to be a part of that, you can click here.

What have you learned from another wise woman?
ALL of us can learn something from one another.
Join in and then go read these posts!

**Please write your "Titus 2 Post" linking back to this post first and then enter your link below.**