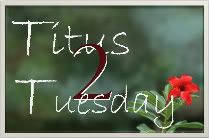 What have learned from another woman this week? (or ever)

Write your own "Titus 2 Post" (linking back here somewhere within the body of your post) and enter your link below!


You may have noticed that I had a bit of a "blog issue" yesterday...

I am hoping to have time later today to do a "real" Titus 2 Post; but I will quickly share a bit of wisdom I gleaned yesterday right here in the blog world.

I paid someone to do my blog design because I am just learning all of this HTML code -

Photobucket

"stuff." What I hadn't realized is that my background colors, column colors, header picture, etc. were all linked to her

Photobucket

account. She had a billing issue that resulted in hundreds of us

bloggers

having that lovely

Photobucket

message plastered across our blog. She is human. Made a simple error. I completely understand and offer grace to her. I'm still in awe that she knows how to do it all in the first place.

So what I have learned from all of this is that IF you have someone else design your blog for you; have them utilize YOUR

Photobucket

account for all of your design pieces.

There are several awesomely talented people out there who offer blog designs that you can use for free...you may also want to be aware that some of them will be linking the HTML code to personal

Photobucket

accounts as well.


I also wanted share a website with you that enables you to print your blog into a "book." You can
click here
to check it out. I was planning to do this on my one year blogging anniversary; but I may do it sooner!
"Do not be anxious about anything, but in everything, by prayer and petition, with thanksgiving, present your requests to God."

Philippians

4:6
He even cares about our blogs!!
Many Blessings! I look forward to reading your Titus 2 Posts!
Shanda
*If you didn't have a chance to see my post from yesterday; I am inviting your questions!*
What have you learned from another wise woman?
ALL of us can learn something from one another.
Join in and then go read these posts!

**Please write your "Titus 2 Post" linking back to this post first and then enter your link below.**