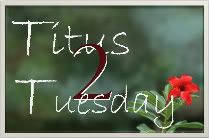 What have learned from another woman this week? (or ever)

Write your own "Titus 2 Post" (linking back here somewhere within the body of your post) and enter your link below!
One of my very best friends to this day was my college roommate/suite-mate. I met
Lydia
on my first day of college. She (and her family) walked into the room catching a glimpse of me sitting on the bathroom counter trying to shave my legs in the sink. (Lovely first impression!) I feel the need to explain
why in the world
I was doing that...but I will refrain and keep my focus on Lyd!
From that first embarrassing moment; she was an instant friend. We experienced most of our "college firsts" together. She helped me weed my way through college romances and I was partially responsible for the meeting of Lydia and her husband. (I had become friends with his older brother.) She was the first person that I told when I got off the phone with my dad when he told me that my mom had terminal cancer. She cried and prayed with me every time I received new news of my moms failing health. She gave me wonderful praise and worship tapes (yes, tapes!) to encourage me.
When I got word that it was time to go home in preparation for my moms death; Lydia was there helping me pack, communicating with my instructors and turning in projects for me so I didn't have to be running all over campus. She has always been a true friend in every sense of the words and one of my biggest cheerleaders for my many ideas and opportunities along the path of life.
The times that I remember being the most memorable and special between us though...scrubbing our bathroom floor in the middle of the night.
In those moments, the business of life dimmed; our roommates were fast asleep, and we would talk openly about
everything
. Our tears and laughter often helped us clean. It was there, scrubbing the bathroom floor that our hearts were knit together in a David and Jonathan friendship kind of way.
I treasure you, my sweet friend. I am so glad that our families are still close and that you are coming to visit soon. You have blessed my life. You have laughed, cried, lived out your own faith, and encouraged me to know Him more and live fully what He has and is calling me to. Thank you.
To read MORE Titus 2 Posts, click on the links below!
*Mr. Linky is seeming to be having some "issues" today, if you are unable to see it; please just "link" your post below by clicking the "link" button.*