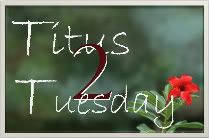 What have learned from another woman this week? (or ever)

Write your own "Titus 2 Post" (linking back here somewhere within the body of your post) and enter your link below!


We have all, I am sure, been inspired by someone who we didn't actually have the opportunity to get to know. Maybe we haven't even actually met the person who inspired us. There are several women who have had influence in my own life from afar.

There are women like Beth Moore, Lysa Terkeurst, Joyce Meyer, and so many more who God has used to touch so many of our lives.

But then there are others. Some of whom I don't even know their names but I see walking in God's love, grace, and power around me. Today I am taking pause and reflecting on those women. The ones whose walk has affected my life although I may not really even know them. Do you have any of those?

What struck me as I was reflecting was how God shines so brightly through them as they serve others selflessly. Not that they volunteer for everything or never say "No" to ministry opportunities; but those who in every day life go out of their way to encourage and bless others.

...holding an umbrella for an elderly woman in the rain although they don't even know her.

...witnessing a tearing down or crushing that was so carelessly or heartlessly done by another and somehow encouraging the victim even though they were a total stranger. (recent grocery store experience)

...Encouraging the mom whose child is in the midst of a very public tantrum in the middle of Target.

One of the youth in our church gave the message this past Sunday. He read a phrase of a song that he could not remember title or artist; but it impacted my heart.

"The only evidence against us is love..."

How else could someone prove that you knew Christ? Words we say don't compare to our actions. The fact is that many of us are or have been inspired; even taught, by those we don't even know. What makes me believe that those women who have spurred me on have known Christ? The way they serve others in love.


I John 3:16 "This is how we know what love is: Jesus Christ laid down his life for us. And we ought to lay down our lives for our brothers.
17
If anyone has material possessions and sees his brother in need but has no pity on him, how can the love of God be in him?
18
Dear children, let us not love with words or tongue but with actions and in truth."
God alone knows the impact of our lives on others.