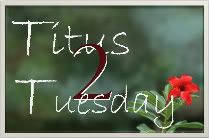 What have learned from another woman this week? (or ever)

Write your own "Titus 2 Post" (linking back here somewhere within the body of your post) and enter your link below!
This week I am honoring my friend,
Angela
. She and I met when we moved here to VA. We ended up being thrust into leadership together and I learned a couple valuable things from her in the midst of leading alongside of her.
The first thing:
How to delegate
. I learned what a healthy balance of delegation can do to make leading something much less overwhelming.
And Secondly, what stands out most to me, was something that Angela was often known to say.
"We don't have to reinvent the wheel."
Meaning, if someone else has already done this successfully, we can look at how they did it; personalize it, and then implement it without having to start from scratch. Being that we were thrust into leadership mid stream; it was essential that we applied this principle often. The wisdom in this principle is still a blessing to me.
So
Angela
, thank you. I learned much from you my friend! There is much more I could say about
Angela
; you may hear more about her another day!
What have you learned from another wise woman?
ALL of us can learn something from one another.
Join in and then go read these posts!

**Please write your "Titus 2 Post" linking back to this post first and then enter your link below.**