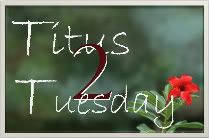 Here we are at another
Titus 2 Tuesday!
It is easy to join in-just answer the question below:
What have learned from another woman this week? (or ever)
This is an opportunity to honor women in your life and to share wonderful tips and lessons with all of us! We can learn so much from each other!
Feel free to honor the same women more than once as you continue to learn from them and their lives!
Simply write your post including a short sentence inviting readers back here to read more Titus 2 Tuesday posts and enter your link into Mr. Linky below!
Thank you to all of you who commented yesterday - I am praying for each of your marriages!



Here is my post for today:
Pride has a way of rearing it's ugly head in our lives doesn't it? It affects our marriage, our relationship with our children, friends, just about everyone we come in contact with really. A girlfriend of mine, who I love dearly because we can always be completely real with one another through the good and the bad; shared this poem with me the other day as we were delving into lessons the Lord is speaking into our lives. I got goosebumps as she read it to me. God had given it to her the week before and He gave it to me through her a few days ago.
Thanks

Julie

, I honor your influence upon my life girl!
My Name is Pride
by: Beth Moore
My name is Pride.
I am a cheater.
I cheat you of your God-given destiny,
because you demand your own way.
I cheat you out of contentment,
because you, "deserve better than this."
I cheat you out of knowledge,
because you already know it all.
I cheat you out of healing,
because you are too full of "me" to forgive.
I cheat you out of holiness,
because you refuse to admit when you're wrong.
I cheat you out of vision,
because you'd rather look in the mirror than out a window.
I cheat you out of genuine friendship,
because nobody's going to know the real you.
I cheat you out of love,
because real love demands sacrifice.
I cheat you out of greatness in heaven,
because you refuse to wash another's feet on earth.
I cheat you of God's glory,
because I convince you to seek your own.
My name is pride.
I am a cheater.
You like me because you think I"m always looking out for you...untrue.
I am looking to make a fool of you.
God has so much for you. I admit, but don't worry,
you stick with me, you'll never know.

As Beth Moore often says, "Anyone else?" (while raising my hand...)

Thank you,

Julie

, for being a friend who helps me to grow and for being an example of someone willing to face the negative aspects in our lives head on.

Write your own

Titus 2 Tuesday

Post and join in!