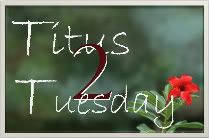 Here we are at another
Titus 2 Tuesday!
It is easy to join in-just answer the question below:
What have learned from another woman this week? (or ever)


Enter your link below and link back to this post!
Today I am choosing to honor my friend,
Susan.
She is a beautiful and true friend who I can learn many things from; but the thing that she is modeling so amazingly to me right now is

true contentment and genuine faith in God's provision.

Her husband is a wonderful, hard working man. Who, like many, does not have a lot of work right now. She is pregnant with their fourth precious child.

It has been such a blessing to watch her stay at peace amidst challenging times. There are two verses that have taken on a richer meaning to me as I watch

Susan:



Philippians 4:12 "
I know what it is to be in need, and I know what it is to have plenty. I have learned the secret of being content in any and every situation, whether well fed or hungry, whether living in plenty or in want." (NIV)

Isaiah 43:10 "Thou wilt keep him in perfect peace, whose mind is stayed on thee: because he trusteth in thee." (KJV)
Susan, you are a beautiful and generous woman and I am blessed to have you in my life.
Who would you like to honor today? Simply write a Titus 2 Post including a link back here so your readers can enjoy other amazing Titus 2 Women and enter your link below!