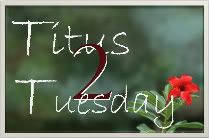 Write your own "Titus 2 Post" (linking back here somewhere within the body of your post) and enter your link below!
Today I wanted to share someone who was deeply impactful during my growing up years,
Jan.
She was the mother of my best friend (Heather) and our families were close. They welcomed me over at their house day or night and I often celebrated holidays (like Memorial Day, Labor Day, etc.) with their family. As I reflect though, two things stand out in my memory.
1. I knew Jan loved me (through the ups and downs of those formative years)
2. She used her kitchen amazingly during our teen years.
What teen doesn't want to cook fun things over at
someone elses house?
:) While canning vegetables was hated in my own home; I was happy to freeze blueberries over at
Jan's
house! (Gotta love teenagers!)
She was a wonderful cook and our families cooked many things differently so I enjoyed making dinners, desserts, the renowned family rolls, etc. Not only did I learn a lot about cooking (and enjoyed eating!); but
Jan
made the most of those late night talks. We discussed many things over the years: Spiritual issues, home and family, boys, life dreams and goals. She invited me to put my views and ideas on the table. She may not always agree with me (and said so), but I knew she spoke in love and wanted the best for my life.
Many a night ended after midnight with the sink full of dishes.
Those times were invaluable to me in the formation of my own beliefs, thoughts and life desires. While I am sure her main desire was conversing and engaging her own two daughers, she opened her home and heart to me and I will be forever grateful.
Now, as a mother myself, it is my desire to invite my children's friends over with open heart (and refrigerator!) I beleive it begins even now in these younger years as I open my kitchen to my own children and invite them to cook with me.
Thank you
Jan
. God used you and your family mightily in my life. Thank you for loving me and opening your home to me. I don't believe I will ever forget the Friday nights eating pizza and chips while watching, "The Princess Bride;" making Cream Puff Dessert, chicken with broccoli, and enjoying your laughter as we played games and talked while waiting for many a delicious morsel to cook in the oven. I love you.
What have you learned from another Christ following woman?
ALL of us can learn something from one another.
Join in and then go read these posts!

**Please write your "Titus 2 Post" linking back to this post first and then enter your link below.**