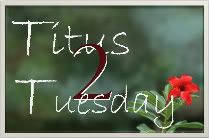 What have learned from another woman this week? (or ever)


Write your own "Titus 2 Post" (linking back here somewhere within the body of your post) and enter your link below!
Today I will be sharing my friend,
Kristen
, with you. She is one of those naturally likable, cool, and real people that just make you want to spend more time with her. I met
Kristen
in MOPS. (Mothers of Preschoolers) She is a nurse by trade and just has the gift of holding any baby and having them be completely content to have her hold them. After I gave birth to my last son, it was almost a closure moment for me to bring him to MOPS and to have her hold him.
The thing that I learned from Kristen was the power of being real.
She is one of those people who is attractive enough to make you slightly intimidated until you see her interact with someone else or she speaks to you. She diffuses that "female competition" thing that often happens by being humble, genuinely caring, and real.
She could easily pull off the "I have it all together look;" but she chooses instead to be relatable, real and open.
She has spoken to our MOPS group a couple of times. The first time I remember her sharing with us, she said, "Going to marriage counseling is o.k.." The second time she shared about Post Partum Depression.
While I wasn't struggling with either of those things in those moments; the mere fact that she was willing to stand up and be open about deeper topics resonated deep within me
because I knew that was something God was speaking to my heart about and it was so refreshing to see someone doing it with beauty and grace.
Being real doesn't mean that you have to share every, in depth, and ugly detail.
It just simply means that you are willing to admit that you aren't perfect. You've walked paths of darkness and struggle, and you have embraced the fact that none of us are perfect;
it is only by God's grace that we are walking at all.
She is easy to get to know and be around because you don't feel like you have to pretend to have it all together yourself. It is easy to open up and you feel safe asking questions that you may not have even asked your sister or mother about before because you know she's not going to judge you.
I absolutely LOVE the group
VOTA
's song, "Honestly." Here are a few of the lyrics...
"If you don't see the real me, you won't see what mercy's done
If you don't see my weakness you won't see what love has won.
If you don't see the distance from the darkness to the Son, you won't see. Honestly...
Let the light escape from these holes inside my soul,
When I start to break, then grace begins to flow
Let the light escape from this wounded place inside my soul... Honestly."
God has used

Kristen

in my life; along this path of mine to allow others to see my weaknesses. To allow them to see God's mercy, grace, and love through the holes inside of my own soul.
It is my prayer today that she will inspire you to be a little more "real" today too...
I love you girl.
What have you learned from another Christ following woman? It can be something practical and simple that we can all use in our day to day lives or something deeper - ALL of us can learn something from one another.
Join in and then go read these posts!
**Please write your "Titus 2 Post"
linking back to this post
first and then enter your link below.**