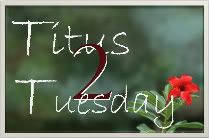 What have learned from another woman this week? (or ever)

Write your own "Titus 2 Post" (linking back here somewhere within the body of your post) and enter your link below!


The parable of the Ten Virgins in Matthew 25 took on new meaning for me awhile back when I was reflecting on why five of them were wise and five were foolish. Were the wise ones innately wise or was it because they were willing to listen to those who offered them council? Most of the wisest women I know are seekers of wisdom and are willing to be taught. They spend time in the Word of God, in the company of other women who they can learn from, and they apply the knowledge gained. I've heard it said before that wisdom is applied knowledge.

Today I wanted to honor a few women who have been examples of wise women in my own life. Some I have honored before; others I will spend more time honoring in other posts. But I am compelled to share a few today:



Elizabeth

~ This wonderfully loving woman

listens well.

I enjoy watching her as we talk. She does not plan out her responses while I am speaking. She is willing to

allow a quiet pause.

I can actually see her processing what I've said, considering it alongside of her own experiences, and then separating herself from the situation and drawing from Scriptural wisdom. The wisdom and insight she offers is like a cool drink on a hot day.

Not rushed or a pat answer;

she draws from her own wells of life experience and applies Biblical wisdom.

Kathryn~ This sweet sister knows the Word of God. Her wells are pure and deep. Her love and knowledge of Scripture inspires me to want to know the Word in deeper ways myself.



Cheryl~

I've honored Cheryl a couple of times before; but when I reflect on the parable in Matthew she leaps to mind.

She is always helping me to consider "my oil" with gardening tips, home improvements, and investments into my children.



Melissa~I can always count on Melissa to generously offer wisdom she has gleaned along the paths of life. She shares generously to all who seek.

She does not forcefully tell you what you need to believe or do

; she sweetly offers wisdom and leaves it up to those hearing to receive.

In case you have not read the parable in Matthew 25 (or you would like to refresh your memory) here it is (NIV):


1
"At that time the kingdom of heaven will be like ten virgins who took their lamps and went out to meet the bridegroom.
2
Five of them were foolish and five were wise.
3
The foolish ones took their lamps but did not take any oil with them.
4
The wise, however, took oil in jars along with their lamps.
5
The bridegroom was a long time in coming, and they all became drowsy and fell asleep.
6"At midnight the cry rang out: 'Here's the bridegroom! Come out to meet him!'
7"Then all the virgins woke up and trimmed their lamps. 8The foolish ones said to the wise, 'Give us some of your oil; our lamps are going out.'
9" 'No,' they replied, 'there may not be enough for both us and you. Instead, go to those who sell oil and buy some for yourselves.'
10"But while they were on their way to buy the oil, the bridegroom arrived. The virgins who were ready went in with him to the wedding banquet. And the door was shut.

11"Later the others also came. 'Sir! Sir!' they said. 'Open the door for us!'
12"But he replied, 'I tell you the truth, I don't know you.'
13"Therefore keep watch, because you do not know the day or the hour.
May we all "fill our lamps and bring along extra oil..."

What have you learned from another Christ following woman? ALL of us can learn something from one another. Join in and then go read these posts!
**Please write your "Titus 2 Post" linking back to this post first and then enter your link below.**