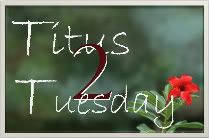 What have learned from another woman this week? (or ever)

Write your own "Titus 2 Post" (linking back here somewhere within the body of your post) and enter your link below!
I am dedicating this post to one of my roommates in life before marriage~
Diane
.
Diane was from Kentucky and her family roots ran deep.
She had this wonderful way of using several small lamps to create a warm atmosphere.
She was dating her husband to be at the time that we lived together and she would dash around turning on lamps and turning off overhead lights just before he arrived. There would be this soft glow awaiting his presence. Even after they were married when I would stop by their house; she had several well placed antique lamps glowing. This girl
knew
how to make you want to come on in and stay awhile.
I have adapted her antique charm into my own style of decorating (I am not nearly so gifted when it comes to finding great antiques) with several small/medium lamps around the house. I have also discovered how awesome dimmer switches for overhead lights can be! I try to create this warm atmosphere when it is already dark when my husband comes home from work. My children even seem to calm and want to snuggle by the fireplace and read books.
There is one additional thing that I have to share about Diane and her wonderful Kentucky family. When she was preparing to get married,
her family made her wedding dress!
I believe her mom was the master seamstress behind the scenes and the one who either assembled the pieces or coordinated the person who did it. Her Grandmothers, Aunts, and I believe even her cousins each took a piece (arms, bodice, etc.) and they hand sequined (and I believe mini-pearled) each area. It was beautifully symbolic of her family coming alongside of her and demonstrating their love and support for her and her husband to be. Her dress was gorgeous. Truly heirloom quality. I wish I had a digital picture to share.
She also taught me how to line dance; but that is another story!!
Diane
, I honor your influence upon my life! Thanks girl!
*Re-post from December. Working on getting everyone healthy at our house!*
What have you learned from another Christ following woman? ALL of us can learn something from one another. Join in and then go read these posts!

**Please write your "Titus 2 Post" linking back to this post first and then enter your link below.**