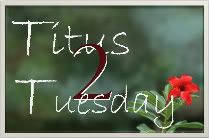 What have learned from another woman this week? (or ever)
Write your own "Titus 2 Post" (linking back here somewhere within the body of your post) and enter your link below!
I'm late out of the gate this morning! Littlest One was up and down all through the night last night. Hopefully he is not coming down with something.
"Back to School" is in the air! As I was prayerfully considering who to write about today; it seemed fitting to honor one of the wonderful women of faith that my children have the opportunity to learn from at school.
As a bit of a side note; one of the reasons we have continued to send our children to Christian School is the fabulous role models that are ever present before them. Not only the faculty and staff; but our school connects some of the older students to the younger ones to encourage, pray for, and to be an example to. My daughter especially has been deeply impacted by these relationships.
Today I will be honoring the Principal of my children's school,
Mrs. Underwood.
I love this woman for so very many reasons, but especially because she is passionate about the children coming into a relationship with Jesus Christ and growing in His knowledge and grace through His Word.
She is intentional about forming relationships with the children. Every morning she meets with them all in the gymnasium before school begins and she does fun trivia questions and challenges with them and they pray together before dismissing to their classes.
She is often their chapel speaker (they have chapel once a week.) The "theme verse" for this past year was:
"See to it that no one takes you captive through hollow and deceptive philosophy, which depends on human tradition and the basic principles of this world rather than on Christ."
Colossians 2:8
Mrs. Underwood spent several chapel times going over the application of that verse in practical ways. One particular day, she focused on
"The Hollowness of Outer Beauty."
As an illustration, she brought in a Barbie-type doll and several magazine covers. She showed the value that is placed on our outer appearance and how many spend most of their money and time in pursuit of a beautiful outer appearance (with their person and belongings.)
Then, she cut the doll in half.
Yes, you read that correctly. She definitely had my attention - and every child in the room. She called one of the children up to tell everyone what was inside of the doll. "Nothing," the child responded.
She proceeded, in her soft and tender way, to talk to all of us about how
the world deceives us.
We are bombarded with images and messages that tell us that if we can obtain outer beauty that we will be happy. Be fulfilled. Be complete.
And yet those claims are hollow
. Those things alone are not enough to bring us contentment and joy.
True fulfillment comes only through relationship with our creator.
While outer beauty is not wrong; it is not enough.
On it's own, it is empty.
She then proceeded to discuss with the children how we can be filled by God's love for us. That His love shines brightly inside of us and causes us to be beautiful from the inside out. When we know His love and peace, we can offer beauty to all that we come in contact with. Not the hollow beauty that only makes others feel less about themselves; but the kind of beauty that brings peace and love to others.
That was a message I desire for my daughter to take to heart. To learn young so she is not constantly striving to be someone or something that she is not; but that she can embrace
the
beauty
that God has created her to be. And honestly, it was a great reminder to me as well.
I am looking forward to reading your Titus 2 Posts!
Blessings!
Shanda
*It is important to note that chapel is separated by grade levels so although this message was deeply meaningful to my second grade daughter; it may not be appropriate for a younger child who could not grasp the accompanied meaning.*
What have you learned from another wise woman? ALL of us can learn something from one another. Join in and then go read these posts!

**Please write your "Titus 2 Post" linking back to this post first and then enter your link below.**