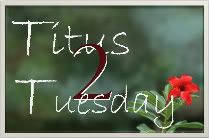 What have learned from another woman this week? (or ever)
Write your own "Titus 2 Post" (linking back here somewhere within the body of your post) and enter your link below!
Today my thoughts are drawn to a sweet friend,
Nikki
. She is someone who just exudes joy and faith. I have known her and her family now for a few years. We were pregnant together for a brief time and I have greatly enjoyed watching her family grow. They have three adorable little boys.
Recently, my husband and I were surprised by an announcement that she and her husband made: they are being led to adopt! They are walking this adoption journey in faith, trusting that God has a perfect plan for their family and for this sweet girl who will be becoming a part of their family.
While I have known other families who have gone through adoption to ensure that they would have a daughter added to their mix; I can say with confidence that it is more for Nikki and her husband than just "making sure they have a girl." They are passionate about God's leading their family and they are taking each new step in faith. The love that God has already given them for this unknown daughter is beautiful and it is exciting to be able to be a part of His move in their lives.
It has prompted me to be open and seeking His will for my life (our families lives) even if the direction is different than I may have been expecting.
Thank you,
Nikki,
for sharing the journey with us and being such a beautiful reflection of God's love for each of His adoptive children!
What have you learned from another wise woman? ALL of us can learn something from one another. Join in and then go read these posts!