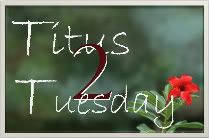 What have learned from another woman this week? (or ever)

Write your own "Titus 2 Post" (linking back here somewhere within the body of your post) and enter your link below!


When I began praying about who to share today I was surprised by who I felt prompted to talk about. In fact, I hesitated but then again felt strongly impressed that she was the correct person.

Many of you already "know" her. Today I am honoring MckMama. Hers was one of the first blogs that I found and enjoyed right away here in the blogworld. She is a gifted communicator and excellent photographer; but the thing that I've always appreciated about her is that

she takes a stand for the things of the Lord with boldness

. She honors her husband, is a mom with seemingly endless ideas and creativity, and in the face of great adversity she is an amazing example of how to trust, lean on, and rest in the Lord. She is not one who pretends everything is all smiles and roses in the midst of difficulty; she is real. She publishes some of those human moments as well. I appreciate that.

Many of you are already praying for her MckMuffin, Stellan. You can read all about him here on her blog; but he is once again having serious issues with his heart. They are waiting to leave for Boston for another heart ablation.

Awhile back MckMama changed her personal profile to include a key phrase. It now reads, "
I
used
to think I was defined by
"

and ends with,

"
Now,
although I may choose to still do those things, I will simply
be
MckMama, a sinner saved by the King's grace, wife to my Prince, mother of Many Small Children."
I am amazed at the influence God has allowed Jennifer to have and I pray God will continue to give her strength, joy, and peace as she stands for Him. I also pray for her sweet babe; that God would have His hand upon him and clearly direct each step of His healthcare.
"...When someone has been given much, much will be required in return; and when someone has been entrusted with much, even more will be required.
" Luke 12:48
"If you make the Most High your dwelling--even the Lord, who is my refuge--then no harm will befall you, no disaster will come near your tent.
For he will command his angels concerning you to guard you in all your ways; they will lift you up in their hands, so that you will not strike your foot against a stone.
You will tread upon the lion and the cobra; you will trample the great lion and the serpent.
"Because he loves me," says the LORD, "I will rescue him; I will protect him, for he acknowledges my name.
He will call upon me, and I will answer him; I will be with him in trouble, I will deliver him and honor him.
With long life will I satisfy him and show him my salvation."
Psalm 91:9-16
What have you learned from another wise woman? ALL of us can learn something from one another. Join in and then go read these posts!
**Please write your "Titus 2 Post" linking back to this post first and then enter your link below.**