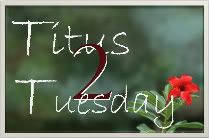 What have learned from another woman this week? (or ever)

Write your own "Titus 2 Post" (linking back here somewhere within the body of your post) and enter your link below!


Life has continued to be full of surprises for us lately. As it turned out; we were only home for just over 4 days - one of which we hosted a "Backyard Blast!" put on our by our church (a mixture of old time Bible clubs and VBS.) We unpacked, did laundry, mowed/weedwacked/weeded, had fun with the Backyard Blast, uploaded pictures, more laundry, we re-packed and hit the road...I'll explain the
why
in another post. Please just know that I'm not ignoring you all; there just hasn't been much time for writing or reading.
One of the huge benefits of this second road trip is that the kids and I have gotten to spend time with my best friend from college and her family for a few days!
I've introduced you to
Lydia
before in a previous Titus 2 Post. I am so blessed to have had her (and her family) in my life for over a decade now. Last night we went for a walk/run before bed. (While her WONDERFUL husband watched the kids!) It was supposed to be a run, but we got to talking and I am not in shape enough to talk and run for any length of time so it ended up being a bit more of a walk! :)
She mentioned to me that the Lord had impressed her to be praying John 13:34-35 over her family - both her immediate and extended family.
34
"A new command I give you: Love one another. As I have loved you, so you must love one another.
35
By this all men will know that you are my disciples, if you love one another."
So often in family relationships one person will get irritated with another. Grudges are held, words are exchanged (or no words at all are spoken), one loans something or money to another family member and then feels that they have been slighted or taken advantage of, someone tells a family member something in confidence and it gets repeated, etc.
Those we know and love the most can often irritate us the most can't they?
I had always considered this Scripture with personal application. I had never considered it that an entire family unit together could be a testimony by the love shown between cousins, aunts, uncles, etc.
I loved how Lydia is praying specifically that the love between family members would increase and that it would be a testimony of Christ's love to others. What an incredible thing it would be if more of us prayed for our own families in this way...
What have you learned from another wise woman?
ALL of us can learn something from one another.
Join in and then go read these posts!

**Please write your "Titus 2 Post" linking back to this post first and then enter your link below.**

Blessings to you!

Shanda